A Message from Pastor Trey



Friends, let's talk about stewardship. A few of you have asked the difference between being a good steward and making a pledge. I'm glad you asked. When you pledge, you commit to giving financially. On the other hand, a good steward is a term we use to describe someone who approaches giving more holistically. Being a good steward is part of answering our Call as a community of faith. This goes beyond financially giving to your local non-profit, civic group, or social club. This is answering the transforming Call that God has shared with this community and each of its members. A good steward utilizes all God has blessed them with—their time, skills, energy, and money. As you reflect on the year to come, I ask that you seek God and respond in the way God is asking you.
Thursday, October 7
Theology On Tap!
Join Pastor Trey for food, drink, and
fellowship as he explores all things God!
Location: Rob Dob's
801 N. Hershey Rd
Bloomington, IL
Time: 7:00 pm - 8:30 pm
Friday, October 8
JOY Fellowship Program
Western Avenue Celebrates 95 Years.
Director Mary Tackett, Guest Speaker
will discuss past and current happenings at
Western Avenue
Community Center
Location: Second Pres
Time: 11:00 am
Sunday, October 10
Doris Hill: A Recognition of Music & Ministry
We will be recognizing Doris Hill's Music and Ministry
during our 10:30 am service.
Afterward, Doris will be in the South entrance to meet with members.
If you would like, you may bring a card
to show your appreciation.
Location: Second Pres
Time: 10:30 am
Sunday, October 17
Second Half Seminar
COVID: Next Steps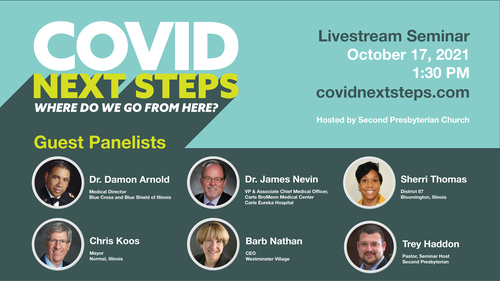 We are hosting an online seminar October 17 at 1:30 titled: COVID: Next Steps.
The seminar will discuss a variety of questions the community has regarding
COVID vaccines, boosters, guidelines and mandates, and steps to maintain health and safety.
Our panel is comprised of:
Dr. Damon Arnold, Medical Director Blue Cross & Blue Shield
Dr. James Nevin, VP & Chief Medical Officer of Carle BroMenn
Mayor Chris Koos, Normal, IL
Sherri Thomas, Asst. Superintendent of Human Resources for District 87.
Our Senior Pastor, Trey Haddon is hosting the discussion.
In addition, we are hosting four satellite locations at:
Western Avenue Community Center
Boys & Girls Club
YMCA
Second Presbyterian
as viewing locations where members of the community
can watch and participate virtually for the Q&A portion of the seminar.
Location: Online -
www.covidnextsteps.com

Time: 1:30 pm - 2:30 pm
Monday, October 18
Fellowship Morning with Pastor Trey
Pastor Trey will be speaking about the ongoing ministries
happening at Second Pres and in our community.
Location: Westminster Village in the Club Room
Time: 10:00 am
Thursday, October 21
RED CROSS Blood Drive
Come donate blood to help save lives.
Location: Second Pres
Time: 1:00 pm - 6:00 pmvisit:
www.redcrossblood.org
for more info.
Sunday, October 31
Community Sunday Worship Service
& Trunk or Treat
We will be having our 10:30 am service at Western Avenue.
Dr. Timothy Mark Harris, Pastor of Mt. Pisgah Baptist Church will be preaching.
Parking will be available at St. Patrick's across the street. Lunch will be provided following the service.
There will also be a Trunk-or-Treat for all the kiddos.
Come worship with us and stay for the fun afterward!
There will be no 8:00 am service at Second Pres on this day.
Location: Western Avenue Community Center
Service Time: 10:30 am
Lunch: 12:00 pm
Trunk-or-Treat: 12:00 - 2:30 pm
Contributions are unfavorable compared to the prorated budget expectation by $22,997. Other Receipts are favorable being $34,817 greater than the prorated budget. Additionally, thru August none of budgeted Foundation support was needed thus far. Expenses are favorable as they are $19,353 less than the prorated budget. This provides a $93,827 unfavorable variance based on the budgeted income and spending plan.
If you have any questions, please contact Mike Ireland, the finance elder, or Joanne Randolph in the church's finance office.

CHANGING THE WORLD DAY BY DAY. REACHING UP AND REACHING OUT.
Please take the time to meditate on Acts 2:43-47. Stewardship Sunday was September 12th. It is never too late to turn in a stewardship card. Please contact Joanne for further details.